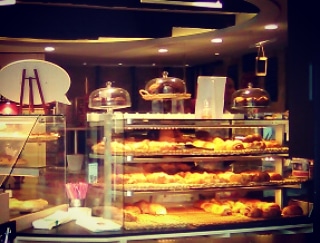 " Bonjour Madame, je vais prendre quatre croissants et deux chocolatines, s'il vous plaît".
If you go to a "boulangerie- pâtisserie" in France, you can buy bread, of course, but also " des viennoiseries" which is the general word to name les croissants, les pains au chocolat, les chaussons aux pommes, les pains au lait, la brioche etc....
We use this term "viennoiseries" as it refers to where the recipes come from: Vienna, Austria. The first bakery with "viennoiseries" was opened in Paris in 1837 by two Austrian men, August Zang and Ernest Schwarzer, and was situated at 92, Rue de Richelieu, Paris.
At the beginning of the 20th century the viennoiseries like the croissant became a symbol of France.
When you come to France, don't miss them! You can have them for breakfast or at tea time! :)